Varieties of Peppers and Extra Pepper Information
This year is my first year trying to grow peppers from seed. As is normal for any avid and eager gardener, I have gone crazy and ordered tons of varieties and I also planted way way WAY too many pepper plants for feeding only two people. Don't worry, I already plan on making tons of salsa! 🙂
As I planted the multiple types of pepper plants, I started writing down little notes for each specific type of pepper. It quickly became overwhelming, so I decided to jot down these specific details in this beloved gardening blog in order to simplify my life. No more frantically sifting through random post-it notes for me anymore! I hope this information is helpful for anyone else who is trying to grow different types of peppers this year. For general pepper growing information, please check out my post on growing them found here.
Before I start with my pepper variety information, here is a list of additional pepper information that might be helpful for you, no matter which type of peppers you are growing:
Fertilize your peppers once every two weeks with a fish emulsion/nitrogen-rich fertilizer. On the alternate week, fertilizer your peppers once with a mixture of 1 tsp. of epsom salts per 4 cups of warm water. This gives your peppers their needed magnesium, which helps them produce more (and healthier) fruit.

You might need a tomato cage or stakes for your pepper plants, depending on your chosen variety. Pepper branches are brittle, so support is necessary if you want a full crop.
The hotter your weather, the hotter your peppers will become (again, depending on the variety). Also, did you know that you can have a huge range of hot to mild peppers from the same plant?! This is especially true with jalapenos.
With hot varieties, make sure to wear gloves even when harvesting them from the branches. Even the leaves of hot peppers can burn your skin or your eyes.
Peppers are, in theory, perennials. They die because of frost and cold soil temperatures. If you grow them in a greenhouse or in containers that you bring in during cold seasons, you could have peppers all year long! Yum!
The worst dilemma for pepper-loving gardeners is that if you leave peppers on the plant until they are fully ripe, you will have the best tasting peppers ever. However, if you do that, you will get very few peppers per plant. If you pick them early, you will get tons and tons and tons of peppers in your season. The best solution to this problem is simply to plant at least two plants of each variety so that you can use one plant for ripened ones and one plant for huge yields.
And now, here is some information on a huge variety of peppers that I am growing this year. If anyone is growing a different type, please let me know so that I can add new ones to my research and my garden in future years! 🙂
1) Sweet Bell Peppers
a) Classic Green "Californian Wonder" Peppers:
**This large, thick walled, juicy, sweet pepper is one of the most popular. 4 inch green peppers turn bright red at maturity.
**This is your typical green pepper that you can leave on the branch until red for a sweeter pepper.
b) Big Bertha Bell Peppers:
**These are the largest bell pepper variety at this time (seven inches long).
**They also mature from green to red, most people eat them when they are green.
**They are one of the most disease-resistant types of peppers, so they are very easy to grow for first-timers!
**There are not many seeds in them, so it is the easiest pepper to use for quick cooking or simply slice and enjoy!
**Not only are these one of the biggest peppers, but one plant can produce up to 12 pounds of peppers!
c) Golden Californian Bell Peppers:
**Very sweet when fully ripened.
**You can eat them at any time, they start out green and turn yellow as they ripen.
d) Orange Sweet Bell Peppers:
**This is the sweetest of the bell peppers, and a hybrid.
**They ripen from green to bright orange, and you can eat them at any time in their color change.
**They are very low maintenance.
**They are wonderful in salsas and stir-fries due to their unique sweetness.
2) Mexi-bell hot peppers
**These are a hybrid pepper plant that combine bell peppers with hot pepper varieties. What you get is a bell pepper with a kick of spice. This kick of spice ranges from super hot to just slightly warm, depending on how hot your weather gets.
**The Scoville range (heat index for peppers) for these beauties is anywhere from 100-1000 Scoville units.
**They mature from green to red. The more ripe (aka red), the hotter they will be.
**These are smaller plants, only getting as tall as 1.79 feet.
3) Poblano hot peppers
**These are a favorite of mine, as they are amazing when stuffed with gooey cheese!
**They have a mild heat, with a Scoville range of 1000-2000 Scoville units. It's heat is between banana peppers and jalapenos.
**When they are dried, they get spicier and are then called 'Ancho' peppers.
**These plants develop slower than other varieties. Have patience! They will catch up!
**Harvest at anytime when they are green through red. They look like large, wrinkled bell peppers and the red ones are hotter.
**They are great in salsas, stuffed, sauteed, in chili, and they are the most used pepper in 'mole' sauces.
4) Jalapeno hot peppers
**These are my ultimate favorite pepper. I use them in at least one recipe every week. Yum yum yum!
**A normal jalapeno-loving household will be happy with 3 plants. Of course, I am growing 6… 🙂
**They are in the low-middle Scoville range of anywhere betweeen 2500-8000 Scoville units.
**They are high yielding plants and have a high disease resistance.
**If you dry them and then smoke them, they are then called 'Chipotle' peppers.
**They are ready to eat when they are green, but if you leave them until they are red, they will be sweeter.
**Red ones are the best for drying.
5) Serrano hot peppers
**These are hotter than jalapenos, with a Scoville range of 10,000-23,000 Scoville units.
**They grow to 2-5 feet tall and each plant can give you up to 50 peppers.
**They start out green and you can eat them then. If left on the vine, they turn to various colors including reds, yellows, oranges, and browns. The longer you leave them on the branch, the sweeter they will become (though it will still hold some heat as well)
**You can lower the heat by removing both the seeds and the white membrane (do this with gloves, of course).
**If you are drying them, wait until they fully ripen.
**They are amazing in salsa and chili.
6) Habanero hot peppers
**These beauties are 100 times hotter than jalapenos. They range from 100,000-350,000 Scoville units. Hot hot hot!!
**These can be very, very tall plants, averaging from 3-5 feet high, and sometimes as high as 7 feet! Plant them in full sun but also in a way that they do not block the sun of other plants. They will most likely need staking.
**They start out green, but you do NOT eat them until they are bright orange.
**They are beautiful plants, often used for ornamental purposes as well as eating. Also, one plant can give you up to 200 peppers! Of course, I did not know that until I had planted two of them. 🙂 Habaneros, anyone?
**You can experiment with their heat: if you purposely stress them (only give them water once a week), they will create more capsacin (heat). If you give them more water (but don't drown them!), they will be milder.
**I adore mango-habanero salsa. The sweet-hot combination is so good!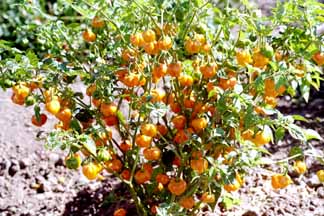 7) Cayenne hot peppers (for drying)
**Cayenne pepper is one of my favorite spices, so I am growing some of these to fill up my spice cupboard.
**They have a Scoville range of 30,000-50,000 units.
**They are long, skinny pods and need to be picked only when they are fully ripened, which is when they are red.
**The plants grow 2-3 feet high and give you about 20-30 peppers per plant.
**Coming in the fall: directions for drying them!
8) Charleston hot peppers
**These are a cayenne hybrid that is more resistant to root-knot nematodes than Cayenne peppers.
**They have more than twice the amount of heat than cayenne peppers, with a Scoville range of 100,000-125,000 Scoville units.
**While I am focusing mainly on their use in drying as a spice, you can also use them in salsas and pickling.
**They are short, compact plants of only 1.49 feet tall. Also, their foilage is unique in that it is more yellow than the dark green leaves of most pepper plants. Do NOT think it is a nitrogen deficiency and overload them on fish emulsion!
**You can harvest them at any time. They start out yellow, then turn orange, then red. I have not been able to discover if they get spicier or sweeter as they ripen. I will have to experiment. 🙂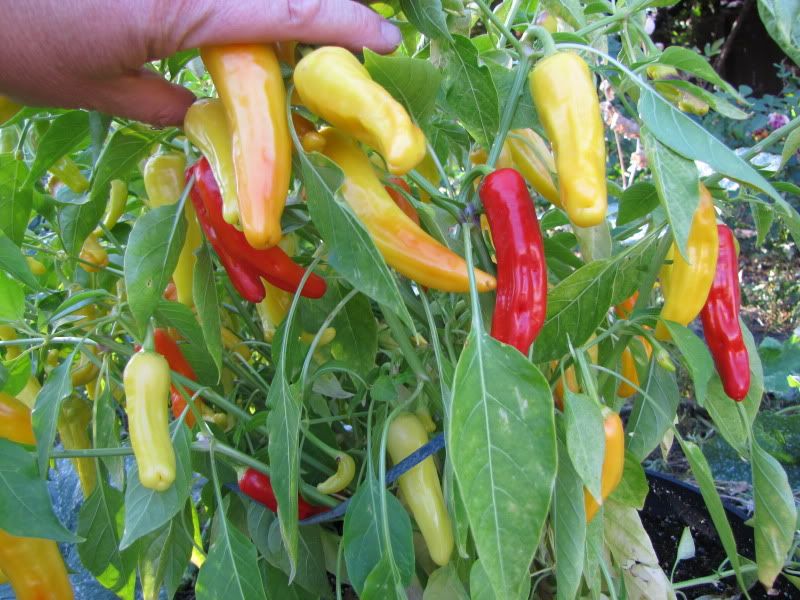 9) Paprika pepper (for drying)
**I adore paprika. I use this wonderful spice in almost all of my soups, chilies, and mexican meals. The smokier the paprika, the better! 🙂 I can't wait to grow this!
**These peppers are round, thick-walled sweet peppers with a kick of heat/warmth.
**They start out white, then turn orange, then end up red. Only pick the mature red ones.
**You get the spice from grinding the dried peppers. There are different types of paprika (including hungarian and alma). I am starting with alma paprika. Hungarian will be next year. I will find out the difference and let you know! Also, drying instructions will appear in the fall!
**Supposedly, you can eat these fresh. I did not know this and I am eager to try one and let you know what it tastes like and how to use them.
So there you have it. My overly-ambitious pepper garden. Besides salsa and chili, I would LOVE some good pepper recipes! Also, don't forget to send me any advice on other peppers to try out in the future! And I always love any questions and comments! 🙂